Here is how it works:
Should you choose to participate in this challenge, your goal is to read at least twelve (12) legally obtained FREE e-books. While twelve is the minimum there is no maximum limit.
Anyone can join. You don't have to be a blogger, and you don't have to live in the United States.
Any E-Reader will work for this challenge, including: iPad, Kindle, Nook, Kobo, Sony Reader, enTourage.
Please Note: If you don't have an e-reading device, you can still join in with Amazon's Free Kindle Reading Apps which you can download for your iPhone, iPad, Mac, PC, Blackberry and more.
The challenge runs from January 1, 2012 to December 31, 2012. You can join at anytime.
e-books in ANY genre count for this challenge as long as it was FREE at the time that you downloaded it.
Every month in 2012, I will make a post for the Why Buy the Cow? Reading Challenge 2012 so you can link your reviews.  Based on participation, monthly link ups may be combined.
Those that link their reviews will be entered into a drawing for a chance to win a different prize each month, such as an Amazon or Barnes & Noble Gift Card, a bookmark, or a GelaSkins for your e-Reader.
Challenge Guidelines:
If you have a blog, create a post announcing your participation in the challenge. Please include a link back to this post.
Non bloggers: participate by linking up your profile URL from the site you plan to post your reviews on such as Goodreads, Shelfari, LibraryThing, Amazon, or Barnes & Noble.
When you post your book review, you MUST reveal how you obtained the free & legal download. Please make your source clear.
You can list your books in advance or list them as you read them.
Crossovers to other reading challenges is acceptable, but ARCs/galley e-books DO NOT count. Again, this is a Reading Challenge to read as many of the FREE e-books legally offered for your e-reader. To get started, check out the Top 100 Free books on Amazon, or the Free e-books on Barnes & Noble.
Any linked reviews that do not meet the guidelines will not be entered into the monthly drawing for the prize of the month.
Levels:
Coupon Clipper: 12 Books
Penny Pincher: 24 Books
Super Saver: 30+ Books
I am going for Penny Pincher level, I am sure I can do it. I already download tons of free books (legally obtained – only downloaded from Amazon). Don't be afraid to participate if you need more info on where to find free eBooks check Amazon, B&N and any other website that sells eBooks.
~~~~~~~~~~~~~~~~~~~~~~~~~~~~~~~~~~~~~~~~~~~~~~~~~~~
1 –  Connected (Twists of Fate) [Kindle Edition – Free download] 1/4/2012

A rock group's rhythm guitarist, Rhys Alexander, dies and finds himself bound inside the body of a woman he's never met. Can she help him move on to the other side, or will he end up finding the love of his life…after his has already ended?
Review to follow…
2.- Jumpers [Kindle Edition – Free download] 1/5/2012

Gypsy Lore. Fortune Telling. Black Magic
Twelve million Gypsy's in the world.
They have the gift. Good fortune or destroy with
a curse. Two men visit one. The wrong one. Money is
exchanged. You'll never drive over a bridge again without looking left, right…Jumpers!
Review to follow…
3. – The Soulkeepers  [Kindle Edition – Fred download] 1/5/2012

When fifteen-year-old Jacob Lau is pulled from the crumpled remains of his mother's car, no one can explain why he was driving or why the police can't find his mother's body. Made a ward of his uncle and thousands of miles from home, a beautiful and mysterious neighbor, Dr. Abigail Silva, offers to use her unique abilities to help him find his mom. In exchange, she requires Jacob to train as a Soulkeeper, a gifted warrior charged with protecting human souls.
Review to follow…
4. – Bound In Sin  [Kindle Edition – Free download – Smashwords] 1/5/2012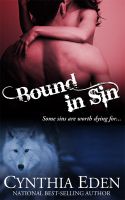 Human Paige Sloan once loved werewolf Drake Wyler more than life, but then that life was taken away from her. Attacked by vampires, Paige was bitten, and, on a cold, dark night, the life she'd known ended. She was reborn as a vampire—a werewolf's deadliest enemy.
Read review here.