Title: The Forbidden Claim
Author: Kelly Gendron
Publisher: Red Sage Publishing
Source: CBLS Promotions for an unbiased review
Price: $5.99
Where to buy: Amazon

Book Description:  US Marshall Jinx Collins is an outspoken, free-spirited, and fearless woman. It's that same fearlessness, however, that tends to get her into trouble. Jinx questions her life prior to being adopted. When those questions lead her to a murderer who's about to be transported into the witness protection program, Jinx decides to kidnap him to see if she can uncover the truth. Jed Kane has worked undercover in the human trafficking ring for years. When Jed accepts a job to disguise himself as one of his worst enemies and take a ride from the correctional facility to a secured location, he certainly had not planned on being abducted by Jinx Collins. Jed's uncertain as to how he feels about her touchy-feely hands and loose lips—unsure if they irritate him or if they are awakening his badly behaving desires. Jed knows he must first find out what the fanatical little lady wants with a murderer before he can act on whatever he's feeling.
Straight away Jinx is attracted to the resilient and enticing Jed Kane—the only man who hasn't backed down from her candor. While Jinx discovers that the questionable criminal may be able to assist her in finding out the truth about her past, Jed vows to save Jinx from her daring self. Once Jinx starts to understand what Jed feels for her—he wants to own her—she demands that he succumb to the raging frenzy. Jed allows himself to seduce her body, submitting himself to that dominant need. But haunted by a world of unlawful ownership, Jed forbids his cold heart to stake its dangerous claim on Jinx Collins.
Locked away in a dark basement, a little boy is waiting to be rescued—and Jinx's past holds the key to his prison. If Jinx can finally find the truth which holds her fears, and if Jed can forgive himself for his past, then not only might they be able to save the boy, but they might also discover that their carnal desires really derive from their own prison… an inescapable prison of love.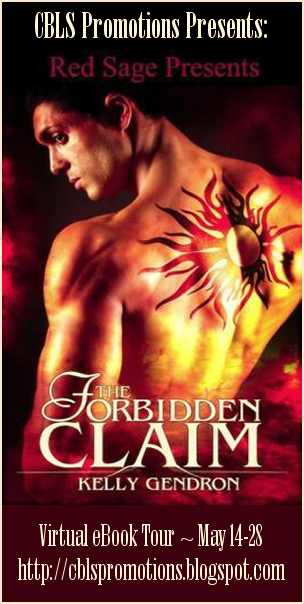 Review:  Jed Kane is a man with a dark past, but with an even more obscure future. His love and desire for Jinx (Divia) drives him wild, not to mention mad. This is a very good read with in depth insight of the world of human trafficking and the repercussions these have on the children who survive it. This story is also about love, about a new found path and hope.
The Forbidden Claim is an action pack, drama filled read that will leave you wanting more. Jed Kane is good at what he does; he has been in the world of human trafficking since he was a child, learning the dealing from inside out. He buys children, and he knows where and who to contact. Jed is head strong, smart and very sexy.
Jinx is smart and someone who would go beyond her means to help the needed. She has searched for her true origins and finding out what her past hides is perhaps the one thing she wants the most. I like Jinx, she is smart and caring, yet strong and hardheaded. I also like how the character's interaction flows easily. Their story and struggles is what makes this story believable, each suffering from past demons while trying to reconcile with the future.  There is romance, there is sex but there is also hope and trust. Great read highly recommend it.
4 ♥ ♥ ♥ ♥
About the author:

Kelly has been faithfully writing for three years but did write her first book ten years ago. She put it down to raise her son as a single mom and then picked it back up when she and her son finally grew up. That's when she settled into her adult life and started to seriously write again. She's dabbled with paranormal stories, but recently she's been on a Romantic Suspense kick. The recipe for the men in her stories: dark and mysterious, strong and confident and, of course, besides magnificent bodies, and shameless aptitudes, they must have a heart you want to rip out of the pages (or your e-Reader) and take to bed with you at night.
Where to contact Kelly:
Website: www.kellygendron.com
Blog: http://kellygendron.blogspot.com/
Facebook: http://www.facebook.com/KelGendron