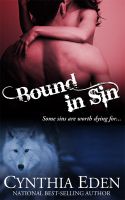 Book description: Human Paige Sloan once loved werewolf Drake Wyler more than life, but when she was bitten by a vampire, the life she'd known ended. When Paige learns that Drake is being targeted for death, she will do anything in order to make sure that he keeps living. Maybe she'll even have the chance to sin–one more time–with the werewolf who'd marked her as his mate
Review: Bound in Sin is a short read but one that will leave you gasping for more. This is the story of Paige and Drake a vampire and a werewolf. This story has great plot, the implications of a relationship that can't be, not only for their differences in nature, but because of the feeling of betrayal and deceive.
The author did a great job developing the characters, their dialog and interaction flows easily.  Be ready for the steamy sex scenes.
Fun read, I recommend it for anyone who is looking for a short read filled with kick-ass action, alpha males and evil vampires. Great work by author Cynthia Eden.
I recommend it and it totally deserves 4 ♥ ♥ ♥ ♥ (hearts)
This review is part of the reading challenge – Why buy the Cow?
Source: Free ebook – Smashwords.
.